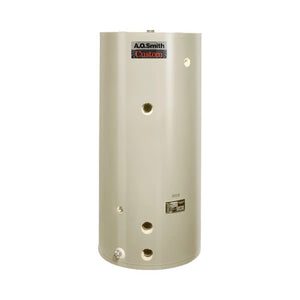 TJV-120A Insulated Storage Tank, 119 Gallon
SKU:
TJV-120-A
A.O. Smith factory insulated and jacketed commercial glasslined hot water storage tank.
There is a 5 year warranty included on the A.O. Smith storage tanks
FEATURES:
-Ideal for use with gas-fired copper heat exchanger for storage of potable water up to 180F.
-Glass lining is fused to the steel for years of corrosion protection and dependable use.
-Insulation meets or exceeds R12.5 minimum thermal insulation requirements

-Heavy gauge steel jacket
Want to Learn More?
TJ & TJV Hot Water Storage Tank Brochure

---
We Also Recommend